We offer Environmental Stress Screening (ESS) to test for hidden defects by applying accelerated environmental stresses to electronics.
Planning & documentation of the test
Programming & control system for automated testing
Streaming of test and implementation
Logging of data
Troubleshooting
Climatic chamber
- Range from -70 degC to 180 degC.

- Programmable for cyclic and burn in tests

- Temperature change rate of up to 25c/ minute
Electrodynamic Vibration Shaker
- Weight limit at 180 kg

- High accuracy control and logging for qualification tests
Vibration bench
- Testing thread locks and functions

- Logging unit with strain gauges and accelerometer to log different types of threads and set screw function and resistance towards vibration and impact
Range from -70 degC to 180 degC.
Programmable for cyclic and burn in tests
Temperature change rate of up to 25c/ minute
Electrodynamic Vibration Shaker
Weight limit at 180 kg

High accuracy control and logging for qualification tests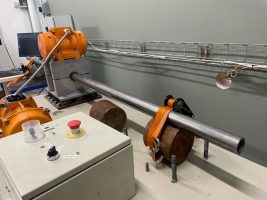 Testing thread locks and functions

Logging unit with strain gauges and accelerometer to log different types of threads and set screw function and resistance towards vibration and impact
At our location we have 2 pressure high pressure cells
300 litre cell with max pressure 1200 bar, measures 300 mm x 3650 mm
40 litre cell with max pressure 2000 bar, measures 170 mm x 700 mm
Logging equiment, available with heat and bushings for electrical connection
We also offer solutions for custom made pressure cells and solutions for other applications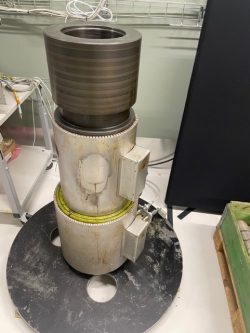 Hydraulic test bench for tensile and compressive forces up to 330 ton (with extension possibility up to 1000 ton)
Testing can be performed with accurate temperature control
Length 18 m
Accurate control and logging equipment
ELECTRO / MECHANICAL ASSEMBLY
We provide solutions for design and assembly of equipment. We have experience with downhole, offshore and industrial equipment, installation of electronics and mechanical 
parts.
We are be able to process sensitive electronics as well as cables and installation material. Within this area, we have broad experience and have the opportunity to perform the assembly and take part in testing / verification of designs and functions.
ELECTRONICS DESIGN & PROGRAMMING
We have experience with the design of electronics circuit boards and a selection of components. Drawings, calculations and software development are available for the customer's specifications.
We can offer to develop and  parameterize software for
Automated systems
HMI systems
Grid / VFD