Xrig AS is an energy and technology commercialization and well simulation testing center.
We offer our clients the ability to test and qualify their technology with the aim of perfecting their technology portfolio.  The result of this is reduced overall well costs for the operators and for service companies to stay competitive.
In addition to technology verification we also offer well simulations, creating a realistic offshore environment much alike what can be expected during a live operation. One example to this is old and potentially difficult wells that needs to be re-entered. By simulating such an event in a controlled environment increases overall safety and decreases overall costs in relation to performing the live operation.
Checking and verifying the planned operational and technology methods in advance, is a low cost, low risk initiative compared to running first time trails offshore in uncertain environments.
We here at Xrig AS are always ready to do our part in making sure that you succeed with your technology commercialization projects.
Drilled wells: Well #5, #7 and #8.
Drilled wells: Well #5, #7 and #8.
Real time Remote testing operation
The COVID-19 pandemic forced us to think new and act new. This lead us to upgrade our drilling and data network system to allow for real time data monitoring and visual communication in order for our clients to continue their projects without being present at our testing facilities. We offer a fully remote testing experience where our clients can follow our every move, every data point, every step of the way. We perform all pre-work and BHA handling, including documented inspections, BHA preparations, procedural reviews, operation and data logging and transfer. Our data sampling rate is 10 points per second.
300+ Successful full-scale tests completed
4000 Operational hours – 1% NPT
Drilled 1100+ meters
Hole size Drilled – 36'' – 6''.- Longest well drilled is 571,8 meters  6 1/8"
All drilling in Granite/gneiss formation
Some of the new technology testing performed
Rotary steerable systems
Coring tools
Percussive drilling technology
Milling with P&A equipment.
Milling with cementing tools
Casing cutting tool in 7'' and 9-5/8" casing.
Casing retrieving tool in 7'' and 9-5/8" casing
Casing plug
Casing Running tool
Swivel testing
P&A vibration tools
Jetting tools
Flow and pressure activated tools
Rig up verification tests
Rotary steerable systems
Coring tools
Percussive drilling technology
Milling with P&A equipment.
Milling with cementing tools
Casing cutting tool in 7'' and 9-5/8" casing.
Casing retrieving tool in 7'' and 9-5/8" casing
Casing plug
Casing Running tool
Swivel testing
P&A vibration tools
Jetting tools
Flow and pressure activated tools
Rig up verification tests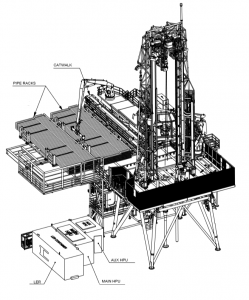 Testing in cooperation with energyx
In cooperation with EnergyX, Xrig offers a wide range of testing and engineering services, including
Drilling Rig with test wells
Fluid Pumps
Horizontal Drilling Test Rig
HPHT Well Simulator
Downhole Motor Dynamometer
Hyperbaric Test Cell
Push/Pull Test Bench
Managed Pressure Drilling Engineering Services
With our combined services we are available to reduce down-time during testing:
Assistance with modifications
Production of spare-parts
Disassembly/assembly of tools and Equipment
Request a non-binding test offer